Karen Snyder is the founder of Sanctuary Home Decor, where she chronicles everything from home décor, her family adventures, entertaining, and gardening tricks. For a daily dose of floral designs and family fun, follow her on Instagram at @sanctuaryhomedecor.
As the season begins to change and warmer days are ahead, there is no better time to spruce up your home for summer! I am looking forward to summer entertaining, days spent outdoors with the kids and lots of sunshine. Along with all that fun, I know that my kitchen will get a lot of use, so I need simple and easy ways to keep it looking great. Weiman makes it easy with their line of cleaning products, specially designed for the hardest working rooms in your house. Scroll down to see some simple tips and ideas for how to get your kitchen ready for summer so you can relax and enjoy the new season!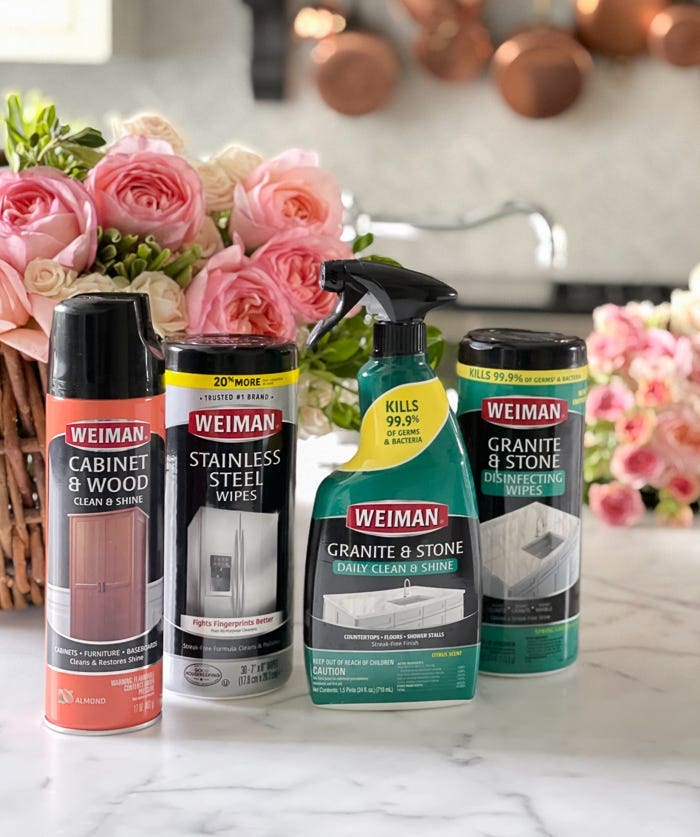 The first place I start when getting my kitchen ready for summer is by wiping down my countertops with Weiman Granite and Stone Disinfecting Wipes. These easy to use, lightly fragranced wipes are perfect for stone countertops that get lots of use throughout the day. With their ability to kill 99.9% of germs, they give me confidence that with one swipe my kitchen surfaces are sparkling clean and ready to shine!
I also use the Weiman Granite and Stone Disinfecting Spray for a germ-free kitchen. I love this product for surfaces when I want to ensure maximum cleaning coverage on larger or dirtier areas. The backsplash behind my stove is one of those places, so I keep my Weiman Granite and Stone Disinfecting Spray handy and give it a quick wipe down when I finish cooking.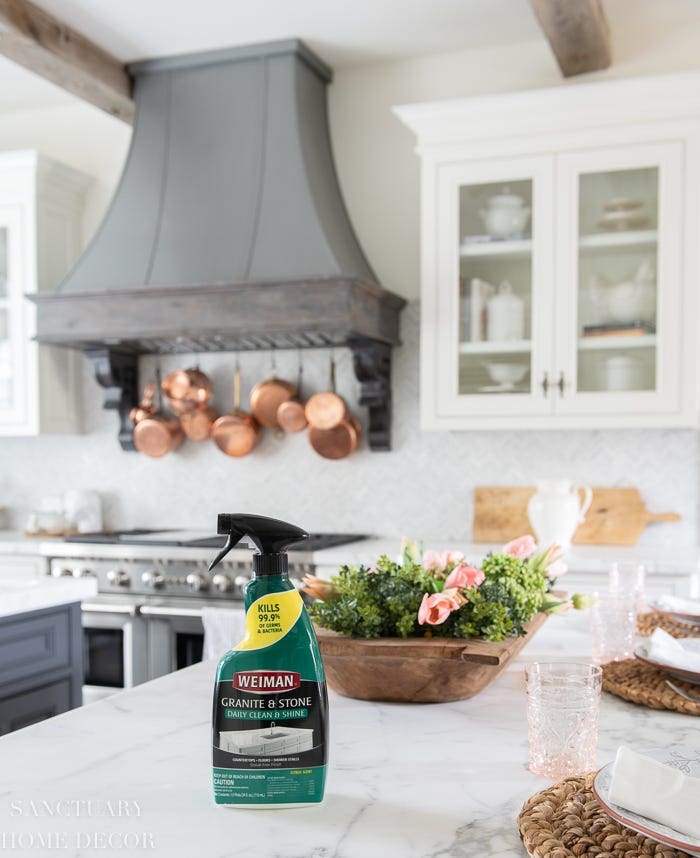 My appliances get a ton of use all year long and that means fingerprints and grime are a constant problem. The best solution I have found to not only clean my stainless steel appliances but also keep them virtually fingerprint free are the Weiman Stainless Steel Wipes. These handy wipes restore the luster to grimy appliances and keep them looking great, even with those kid hands touching them constantly. I especially love that one wipe goes a long way and cleans several of my appliances!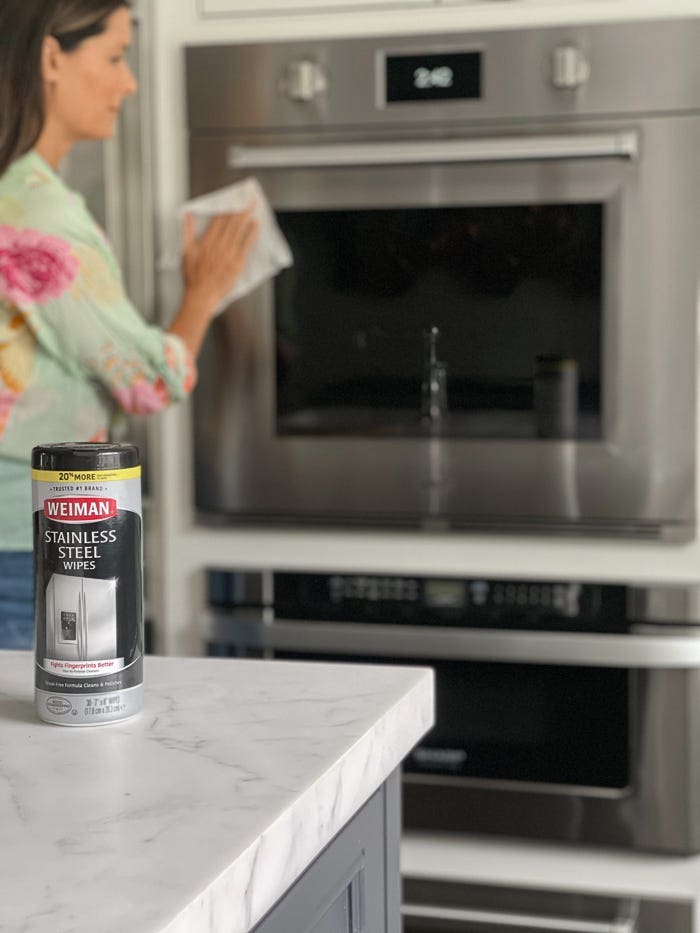 And not to be forgotten, the eating areas in my kitchen and breakfast nook are used several times throughout the day and always need a bit of sprucing up. I rely on the Weiman Granite and Stone Disinfecting Wipes and Spray to keep my kitchen island in top shape and to ensure that it is disinfected and germ free for each mealtime.
When we use the kitchen table, I give it a polish and shine with Weiman's Cabinet & Wood Cleaner. This product is also wonderful for wiping down my kitchen shelves and cabinet faces. I spray the Weiman Cabinet & Wood Clean & Shine directly on my cloth and then wipe for the perfect amount of product on every surface.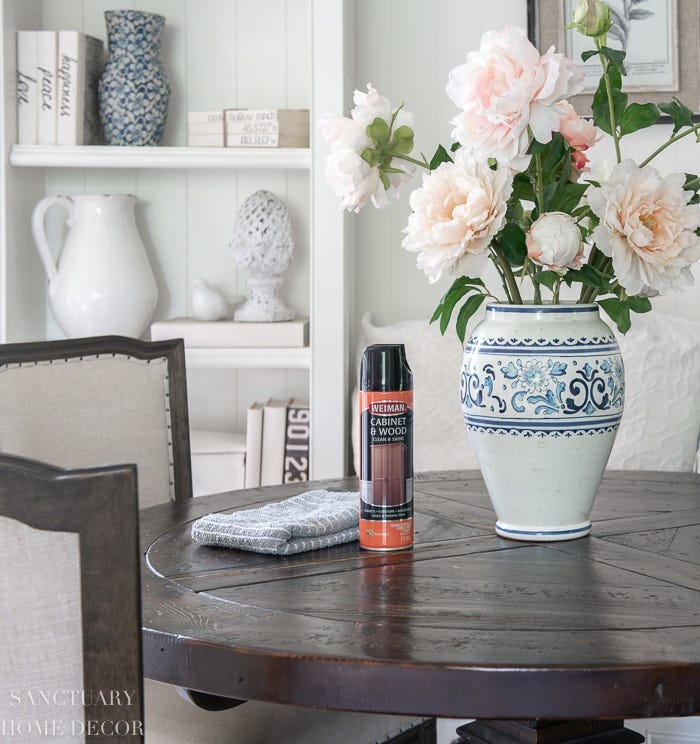 And because I want my kitchen to be clean AND beautiful, I always add a bit of summer décor to the countertops, table and shelves. I think bright whites and blues are a lovely color combination for summer, so the addition of a vase filled with peonies on the breakfast nook table and some blue and white décor on the shelves easily adds a seasonal look.
I love to keep my pretty dough bowl filled with faux greenery and tulips which creates a long-lasting pop of color on my kitchen island. I love that this is low profile, so the kids can easily see into the kitchen while they are eating breakfast.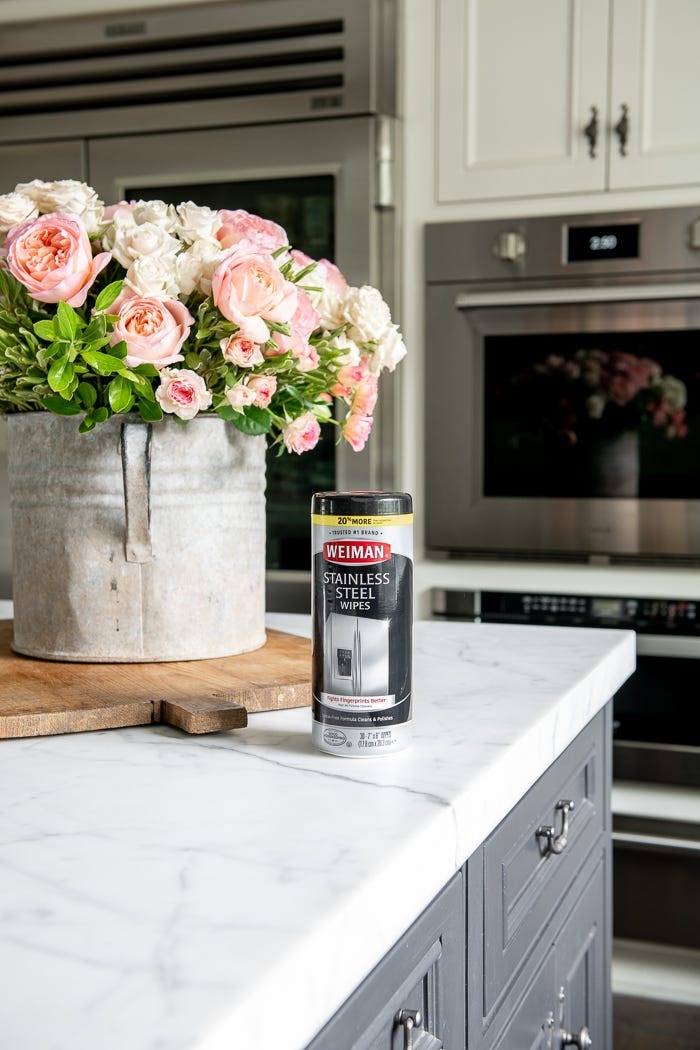 Whatever your summer kitchen style is, be sure to start with a fresh and clean palette using Weiman Products. I love the quality and ease of use of all their cleaning products and know they will carry me through the warm summer days and nights with a sparkly clean kitchen!